Lerke Nennemann (b. 1992)
Lerke Nennemann is a German artist who grew up in Hamburg, but has now moved her studio to Berlin.
Her work focuses on the dynamic relationship between form, color, proportion, structure, and a diversification of techniques and materials. Through this focus she tries to generate an emotion, a sensation, and surprise in the viewer. Some works are planned and conceptualized in detail, others are created on a whim and leave room for spontaneity and chance. It is also through this joy of experimentation that her work is driven forward, forming new avenues of creativity.
Her work consists mainly of abstract paintings on large-scale canvas, as well as smaller studies on paper. Recently, sculptures have also become a part of her repertoire and area of interest.
Contact: lerke.nennemann@gmail.com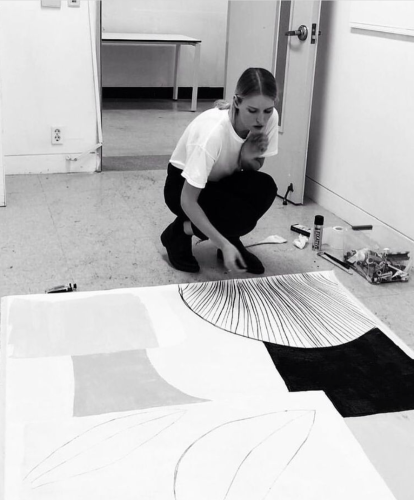 Selected Exhibitions
group        BAAM, Moos, Berlin (DE) '22
group        Monkeymarket, Münster (DE) '22
group        Rugs for Water, MeetFrida Art Space, Hamburg (DE) '22
group        100 Blickwinkel, Millerntor Gallery, Hamburg (DE) '21
group        ArtMUC, Munich (DE) '21
group        Johnnie Walker Art Walk, Hamburg (DE) '21
group        ArtNumber23, Online '21
group        K-Oz Gallery, Hamburg (DE) '17